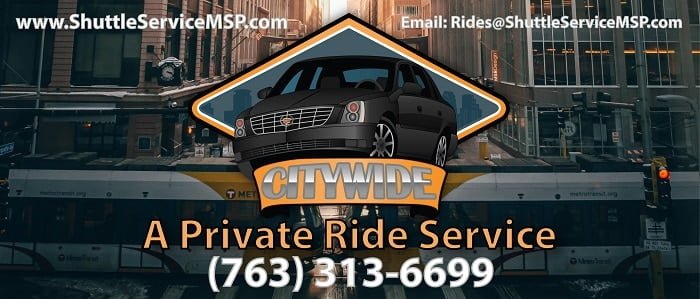 Shuttle Rochester to MSP
Affordable, Professional and Friendly Private Shuttle Service from Rochester to MSP or the Mayo Clinic to the MSP airport
Citywide offers a Private ride service between the Rochester area including the Mayo Clinic and the MSP airport. We will drive you from other cities as well if needed, click the above link to find pricing.

The Ride between Rochester and the MSP airport is 1 hour and 20 minutes long. We will pick you up from any address in Rochester and bring you to the MSP airport. We will drop you off right outside your ticketing airline desk. This pricing is good from any address in Rochester, MN to just about any address in the Twin Cites area.

If we are picking you up at the airport, we will track your inbound flight. We will have someone at the airport when you exit. You will walk out of the airport into our heated or air conditioned car.

No need to go to any other part of the airport. Walk out of the nearest door into our waiting vehicle. We will drop you off at any address in Rochester.

Most of our rides are quicker and cheaper than a connected flight between MSP and Rochester. Your layover is usually greater than an hour and you still need to get either to or from the RST airport.

(763) 313-6699
If your English is limited, please text the number above. You can also email us at Rides@ShuttleServiceMSP.Com and we will respond using Google Translate.
To check out TSA security wait times and general MSP airport contact information, click here.
One of the websites we use to track your inbound flight is FlightRadar24.com. This allows us to be at the airport when you arrive and to see which door you are most likely to exit from.